Hi, we are the St Laurence Church Infant School PTA.
We are a registered charity, which aims to put on fun, enjoyable events for the children and families, whilst also raising much-needed funds for the school.
Throughout the year we hold a range of different fundraising events including discos, raffles, competitions, quiz nights, cake sales, shows and fairs. We also purchase gifts for the school and the children. The last few years we have been able to purchase Christmas trees, a Christmas gift for each child, new starter gingerbread men and leavers' gifts for Year 2 children.
We understand that everyone's time is valuable these days, but any help or input will be much appreciated.
Meetings take place every half term  – at school or at The Stone – everyone is welcome! However, if you cannot commit your time to being on the committee or attending meetings, we would really appreciate your help in other ways. You could volunteer to help at our big events such as the Christmas and summer fairs or buy a ticket for one of our events such as children's discos or parents' quiz nights.
You can also support from the comfort of your own home through Easyfundraising – its completely free! Just visit the website below:
The money raised by the PTA goes to directly to the school and children. Recently, we have contributed funds to new whiteboards and PCs in every classroom. We have also won a grant from the Central England Co-Operative to improve the library at school. We are currently raising money to go towards purchasing new playground equipment to make playtime even more enjoyable for the children.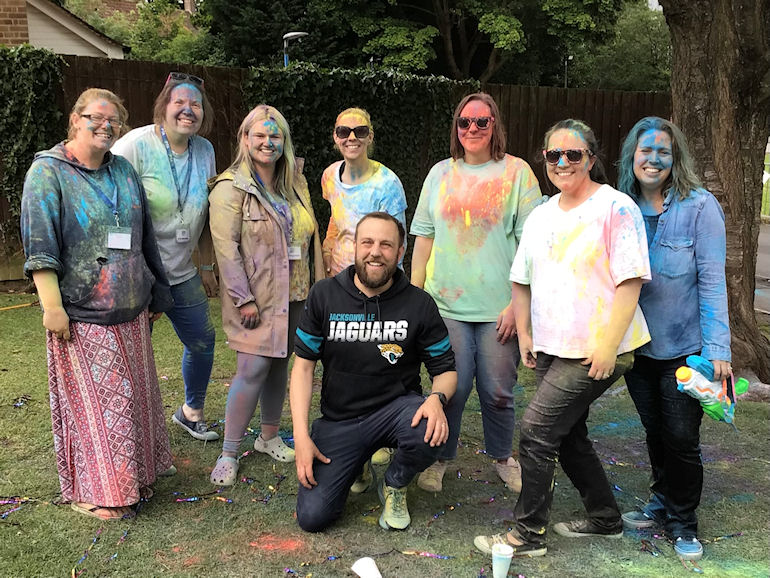 Some of the members of our PTA.
If you would like to contact us please email us or visit our Facebook page:
For details of our upcoming events, please see the PTA section of the weekly School Newsletter. We look forward to seeing you at one of our PTA events.