Covid-19 Response and Home Learning
See our Covid-19 Response page for information relating to our school's coronavirus response and re-opening, and our Home Learning page for information about how to access work for pupils to complete if staying at home.
Welcome to St Laurence Church Infant School, where we provide a first class education for our children.
We ensure the children are happy and safe, and we help them to always do their best. We have a talented and dedicated staff team who work in partnership with parents, governors and the community, to offer the highest standards of learning and teaching within a Christian environment.
Our fantastic website will help you to find out more about our school. If you would like to visit the school please contact us and we will be happy to arrange a convenient time. We look forward to meeting you. You are welcome to leave a message in our Guestbook, too.
We hope you enjoy your visit to our website, and come back and see us soon.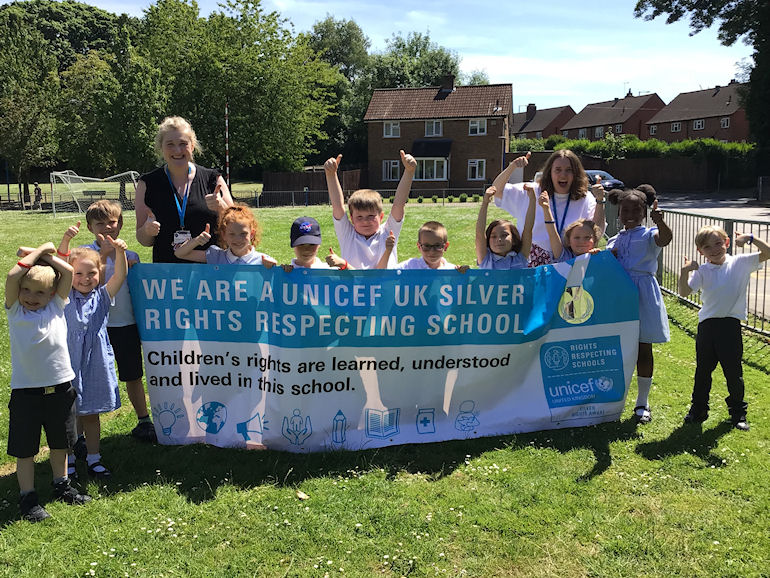 New Things on our Web…
24 Oct 20: School Newsletter and diary dates.
24 Oct 20: Artsmark logo added to our home page.
19 Oct 20: Rights Respecting Schools Bronze award logo added to our home page.
17 Oct 20: Updated Risk Assessment for full school re-opening.
10 Oct 20: Details of our Designated Safeguarding Leads on our Safeguarding page.
10 Oct 20: Guide to using BGfL 365 to join worship or a live lesson on our Home Learning page.
06 Oct 20: School Newsletter and diary dates.
06 Oct 20: Updated information, photograph, links and diary dates for our PTA.
06 Oct 20: Updated school Staff List.
06 Oct 20: Updated Safeguarding and Child Protection Policy.
01 Oct 20: New School Meals menu from October 2020.
Our web was last updated on 24 October 2020